The Oriental Cat Association have created a charitable trust to care for cats of our breed who need rehoming.
Please get in touch.
If you need help to rehome and Oriental cat.

If you would like to offer a home for an Oriental cat.
Visit our website on the following link http://www.ocwt.org/
Life with an Oriental rescue cat
Oscar came to us from a loving home in Feb 2014; sadly he had been an over-demanding and challenging indoor boy who at aged 15 months had become too much for his current owner.  We always had oriental cats but had lost our old boys 18 months previously and were missing having one in our lives.
We too experienced his challenging behaviour as he climbed curtains, doorframes and at times flew off the handle and lunged at you unexpectedly. But over time and with consistent and firm handling he relaxed and learnt our rules (or at least we tell ourselves that!).
As the weather warmed we agreed to let him out in the garden when we were out there.  This was a key moment for Oscar and, on reflection, may have provided evidence as to why he had been unhappy previously.
Oscar LOVES the outdoors!
In the first year he gifted us
2 wood pigeons
A rat
A number of mice
Lots of shrews
Blackbirds
Blue-tits
Sparrows
He almost managed to snare a grass snake until I intervened.
Even with a belled collar he is ruthless and most of these he has dragged through the cat-flap, which in the case of the wood pigeon was no small feat as it was almost as big as Oscar!!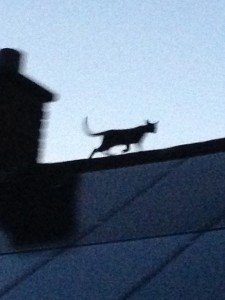 He has however been thwarted by our enormous lop eared rabbit that free ranges round the garden although he does keep trying, he has been chased off by our Cockerel and has been slow to learn that some flying things sting (we keep the Piriton handy – following the vets instruction re amount). He also still forgets to wipe his feet when he comes in and we find muddy paw prints everywhere. Strangely he has no problem with being out in the rain (having him try and sneak under the duvet at 3am can be a shocker). He visits neighbours, climbs trees and has even been spotted sitting on top of the chimney pot of our garage roof.
Whilst we have always kept our cats indoors we now recognise that some cats just need to be in the big wide world. We have given in and he now has outdoor access 24/7, although we are lucky that we live in a cul-de-sac and have fields behind us. In addition he doesn't let anyone near him outside (except us and a neighbour who feeds him) and is micro-chipped so we think it is not too high risk.
Indoors now he is chilled, and spends a lot of time laying about recovering from the outdoor action. He is a bit like Garfield and prefers human food – pizza,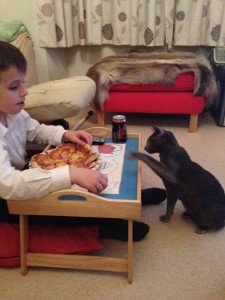 crumpets, apple crumble, POPCORN is a real favourite – our vet shuddered when I told him and looked disapprovingly at me.
Even as I write this Oscar is perched on my shoulder, like a parrot, purring his socks off and letting out the odd meow to remind me he is there.
He is fabulous with our son, Cameron, who was aged 9 when we got him. Cameron is also wonderful with him, he was so gentle in settling him in, playing with him, feeding him and hanging out together. If Cameron is snuggled on the sofa you usually find Oscar on his lap or curled up under the blanket.  Cameron has, over time, spotted the signs that Oscar is going to pounce and, following the incident of the unexpected tooth in foot, learnt not to wiggle his toes if Oscar is in a playful mood.
Did we make the right decision having a rescue cat? – Absolutely, if you have the time and commitment to help a cat settle into your home.  It is important to realise it may take a while and have its ups and downs, some habits may be less than desirable but can usually be sorted if you persevere.
 Would we recommend adopting an Oriental rescue cat? – Definitely, Orientals are loud, demanding, affectionate and so funny. They are always pleased to see you and love nothing more than curling up on your lap
Julie, Roy and Cameron Northcott.
May 2016