The them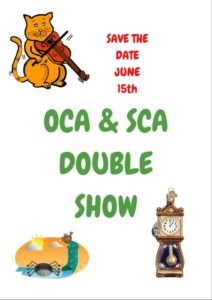 e this year is "Nursery Rhymes" and will take place on Saturday 15th June at Moulton College, Gate 4, Pitsford Road, Northants, NN3 7QL.
We have classes for all colours and patterns of Orientals as well as Siamese, Balinese and Household Pet (both Pedigree and Non-Pedigree).
The show shares its venue with the Siamese Cat Association,which also has classes for Siamese and Balinese , so you can enter any
cat in both shows, giving the chance of winning two certificates.
There is a single schedule covering both shows:
click here to download the schedule.
There are separate entry forms for the two shows:
Click here to download the SCA entry form.
Click here to download the OCA entry form.
You are again able to submit your show entry online. Payment for online entries has to be made either by sending a cheque to the show management, or by direct payment to the show bank account (which can of course be done online). While the online entry process has been tested on a wide variety of hardware, operating systems and browsers, it is still in a somewhat experimental state. If it does not work as expected, please inform its maintainer of the problem.
Click here to enter the Siamese Cat Association show.
Click here to enter the Oriental Cat Association show.